Our company can customize various sand dredging machine according to customers' demands.
sand dredging machie operational principle
The jet-suction type sand dredging machine, by means of the water power, conveys the silt (or fine sand, sea sand, etc.) lifted by the water column from the high pressure gun to the destination through pipelines by the action of water pump. The dredger is novel in design, simple and convenient in operation and high in efficiency. It is suitable for dredging channel, desilting lake and reservoir, exploiting seashore, clearing port and pier, pumping sand and so on. The dredger has played an important role in cleaning silt and strengthening dyke for Yellow River.
sand dredging machie structure:
The sand dredging machine consists of a ship body, a conveying system, a water inlet system, an empty system and so on, wherein the conveying system comprises power, a clutch, a mortar pump, etc, and the empty system comprises a high-pressure hydraulic pump, a vacuum extractor and so on.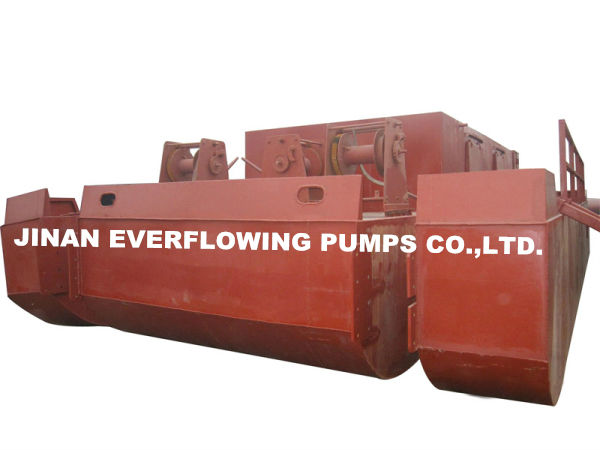 sand dredger application:
1.Absorb the sand in the river, lake and sea.
2.Absorb the silt and sand in the river, lake, sea, reservoir , pound , electric power plant .
3.Absorb the slurry of stone processing plant.
4.Absorb the slurry in the deep well.
Payment
T/T
30% of total amount in Advance as Deposit,
30% after pontoon have finished ,
40% Balance before delivery.
Ways for Packaging
* In Container
Transportation
* By sea shipment
* Remind messages for customer of the shipment
sand dredging machine features
1.The wetted parts of the pump are made of high chromium wearable alloy, so the pump has good wear resistance and large flowing passage.
2. It is mainly used for transfering the silt, ore pulp, coal liquid, sandstone containing big solid particles.
3. It is widely used in the dredge of silt, ore pulp, coal liquid, river, port and so on.
We can customize special sand dredging machine according to different environment and customer requirement which can accomplish the whole set of working procedures of filtering , extracting , separating, washing , classifying and put our qualified products directly. Our experienced engineers will work closely with you to customize a best dredging solution for your particular needs.